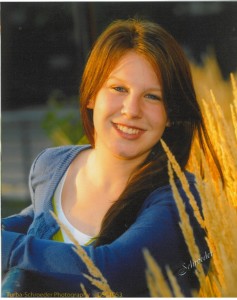 Name: Mikaela Breunig
Hometown: Waunakee, Wis.
CALS Major: Plant Pathology
Career Goal: Pursue advanced degrees in Plant Pathology with the goal of developing new ways feed a growing world.
About Mikaela: Mikaela Breunig always loved science. She was active in Science Olympiad in middle and high school, and she took as many science classes as she could schedule at Waunakee High School.   But she also loved agriculture: enjoying working in the garden, visiting the farms of her grandparents, and she knew how important it was to feed the developing world.
When she was a deciding on a college major, she met Plant Pathology department chair Patricia McManus and immediately she knew she found her professional home in Plant Pathology, which combined her interests of science and plants.
Mikaela is also in the UW biocore program, a challenging curriculum, and works in the lab of Dr. Mehdi Kabbage in the Plant Pathology department. She also works at the UW-Extension Pyle Center and is in her second summer research internship with Monsanto. She is also pursuing a certificate in Agricultural and Life Science Business Management.
Her activities include being a BioCore Outreach Ambassador bringing science to rural schools, the Association of Women in Agriculture, and Collegiate Farm Bureau where she enjoys "ag"vocating for agriculture and sharing its story with the community.
She was recently named a UW Hilldale Scholar and looks forward to completing her capstone research this coming year. She plans to attend graduate school upon receiving her BS next spring.
---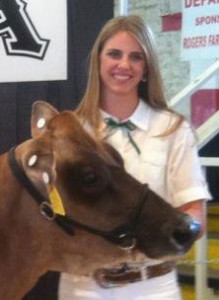 Name: Anneke Moss, FISC 2nd year FISC student, Dairy Farm Management, Crop Production and Soil Management
Hometown: Litchfield Park, Arizona
Career Goal:Calf manager on home farm, open some sort of agri-tourism business in the future
1. Why did you choose to enroll in UW-Madison and CALS?
After graduating high s
chool, I was undecided as to what I wanted to pursue in college. I spent two years obtaining my Associates degree from a local community college and by the end of my time there I had decided that I wanted to continue life in agriculture. I heard about Short Course and thought it sounded like a good fit. It could give me hands-on education and wouldn't require me to retake any classes as a Bachelor's degree might have. I had a few friends in the Madison area and decided to give it a try. My first term started in January of 2014 and I will graduate March 28, 2015 with a certificate in Crop Production and Soil Management and also one in Dairy Farm Management.
2. Tell us about one job, club or activities you participate in at the university that is important to you and explain why.
Due to the accelerated nature of the Short Course program, I have not been able to get very involved in campus activities or have a regular job. However, I have been a paid notetaker through the McBurney Disability Resource Center for each term of my studies. Although
not official, I do consider my position to be a job. My job as a paid notetaker is important to me because I made it a goal to graduate without any debt and this position is helping me to make that goal a reality. Also helping me obtain this goal, I was selected by WALSAA as one of the 5 recipients for their WALSAA Outstanding FISC Student Scholarships for 2015.
3. Give one example of why you think CALS is special or unique
I think that it would be fair to say that the majority of American society takes farmers and our contributions to the world for granted. In my experience, UW-Madison CALS department doesn't take anyone for granted, but rather, the staff goes out of their way to make everyone feel important and valued. Additionally, in a world that seems to bemoan the advancement of technology in food production, CALS faculty and researchers are spending their time and energy to develop and refine new techniques and/or technology to help farmers do their job more efficiently and profitably. CALS is helping us do our job better.
4. Give one example of what your friends say makes you unique
Mostly I am known for being from Arizona and coming from a farm that milks 1,200 registered Jerseys. More importantly, though, my friends say that it is my strong values and beliefs that set me apart from many of my classmates and make me unique.
5. Tell us about one teacher/professor who has taught you something important or made an impact on your future.
Each and every one of my professors has made an impact on my life, however there are couple that stand out. Studying under Dr. Bob Cropp was both an honor and a pleasure. I greatly enjoyed learning from such a well-renowned and experienced professor. Because of his class, I now feel as though I have at least somewhat of a grasp on the complicated world of dairy co-ops and marketing. If nothing else, it is not such a formidable topic and I now have confidence to continue learning about this ever-changing field.
Larry Olsen is the other instructor that has made the most significant impact on my career trajectory. As I have previously mentioned, it is my dream to open some sort of agri-tourism business and get people reconnected to agriculture. In Mr. Olsen's Agribusiness Communications class, I realized how easy it really is to reach out to our "urban neighbors". When I return home, I intend to make the event for which we had to plan and prepare in his class into a reality. Although I would still like to open an agri-tourism business, I have realized that I can fulfill my dream of getting people involved in agriculture without having to start a business.
6. Any other thoughts you want to share with our readers?
Thank you for your support of agriculture and Short Course! FISC is truly a unique program and I am glad to have been a part of it and honored to be a scholarship recipient. Coming from the Southwest it has been a pleasure getting to know, albeit in a limited manner, the culture of the Mid-West. It is encouraging to see so many young people my age fired up about dairy and agriculture and enthusiastic to take new knowledge and put it to work. Each of my classmates and I come from a wide variety of backgrounds, but we are all united by one common denominator – our passion for agriculture and providing wholesome, healthful food to America and the world. Thank you for your role in enabling us to pursue our dreams and do what we love.